Sibs always wants to go away in Winter and I always say its a really bad idea and she always wins. This time we chose Cambridge. I found a good, cheap room at Tuddenham Mill and booked it. They soon called back to say that it wasn't available to share with a dog and they wanted to charge £320 for the available room.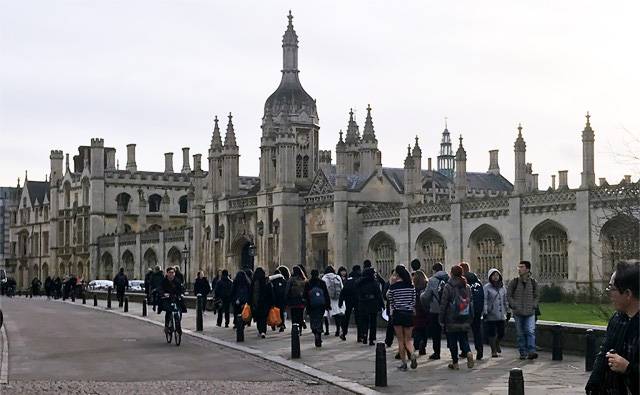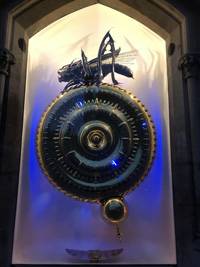 Although we could and should have bailed out at that point we ended up negotiating a lower price instead. It was still a bit annoying, to be honest, since for the same price we could have been closer to Cambridge.
Before going to the accommodation, we stopped at the Trumpington Park & Ride, for a quick look at the town. The charge was £6 for the bus including the car-park.
Cambridge centre is very attractive although we were duly guided out of a lot of places because of our dog. We did stumble across an excellent small shop selling several science biased gadgets for geeks, so I got stocked up with some nerdy delights, including a molecule building kit which is a must-have purchase.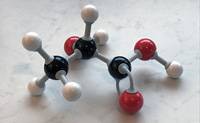 When we eventually made it to Tuddenham Mill we found a tastefully designed room, far better than any I've stayed in before. As well as that, they threw in a carafe of Sloe Gin, orange juice, milk and fizzy water and a cople of chocolates … all rather nice. We were told we had Apple TV, but that turned out to be nothing more than the network we were using and didn't mean anything.
The menu was pricey so we went to the local dog-friendly pub instead, called the White Hart. When we got there we found that what they actually meant by dog-friendly was that we would be allowed to sit outside in the rain, in winter, at night to eat and drink.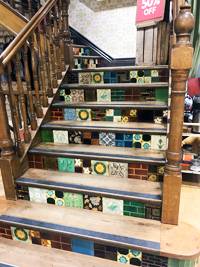 Since it was this place or no place, we took the hit and came back without the dog. The owners, Paul and Rebecca have been in the village for 8 years and I guess Rebecca was out back preparing the excellent food we had while Paul did the yacking out front like a man in his own front room with friends.
Back in our room at the mill, AppleTV network didn't like Netflix much in spite of the grand intro it had received, so Netflix treated us to 10 minutes of a connection spinny thing, but the Sloe Gin and chocs made up for that :0) Sleeping was difficult because the room was too warm and we had to open the full-length windows to cool down. For safety, I moved the sign which said 'Axe Murderers: Please Use This Entrance' out of sight, and felt a lot better.
The next day I reported the heat and Netflix issue and the hyper-efficient staff logged it and promised to sort it out, pronto. We had breakfast over the river in the main building which was so good. By now we were thinking this place was worth the price hike even though there were a few side issues.

We were lucky that it was a sunny day, not rainy as predicted days earlier. We boarded a punt and took a leisurely 40-minute cruise up and down the Cam, listening to our knowledgeable and amusing guide. Since we were at the back near to the punt dude, we got wet from the pole.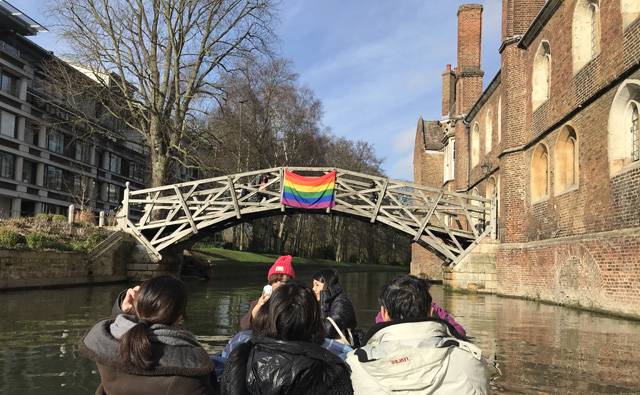 The remainder of the stay was a replication of the first, finishing off with the hot underfloor heating and the spinny Netflix channel as before. Similarly, I made do with a refill of the Sloe Gin carafe and chocs. Once more Sibs opened the door wide during the night and this time the room filled with dead leaves from the 50 mph gale blowing outside.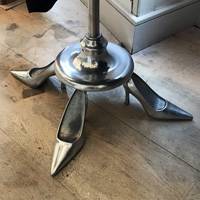 The next day I picked up a vent pipe that had blown out the night before and handed it into the reception. I told a different hyper-efficient staff member about the underfloor heating and the Netflix issue so that it could be forgotten in time for the next guests.
On the way back home we took a detour to Hambledon Lock for a walk by the river. I'd recommend it since the lock itself is interesting and on the other side the path has a decent surface most of the way around. We spotted a beautifully marked and coloured Red Kite hunting there. Before we set off home, we stopped off for a cup of coffee in the local pub which was sprinkled with middle-aged posh-voiced couples who didn't seem to be married.