A Holiday to Port de Pollenca, Majorca
Based on the fact that a trip to Port de Pollenca would be a short flight from the UK with good weather in September, she suggested that we go. Right-oh, I said. I've never been to Majorca. Besides which it's bound to be crammed full of topless ladies.

The flight from the UK was with Ryanair who subsequently cancelled two thousand flights while denying an exodus of pilots on Twitter. It was also a time when Palma locals staged protests against tourists because of rising house prices.
Luckily we didn't get snagged up with either of those problems.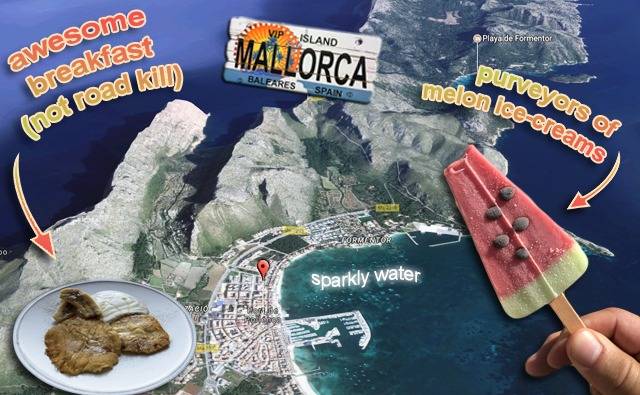 When we got there the temperature was higher than expected. I should have pre-booked a transfer shuttle but had breached the 72-hour booking threshold, so that option was done. We used the local buses instead. The second bus was identical to a shuttle ride in any case, so no problem.
Going back to the airport was a different issue since it would mean setting off at 4:30 am and the only choice was a metered taxi which clocked up 90 euros. When we did that, the taxi driver seemed jolly as I handed him several notes. It must be all that sunshine.

Our first walk went over the hill towards Cala Boquer. It was pretty, hot and arid with rock walls rising on either side. The path leads to a cove where the amenities we read about didn't exist and you definitely need shoes to deal with getting in and out of the water. Shortly, some local ladies went topless. I get that a lot.
On another day we went over the hill again to visit Cala Sant Vicenç. The Sygic Travel app we had saved us from wandering off the path several times, making it a really useful download.


We fell into the rhythm of going out every morning and coming back in the evening. There was plenty to do without the need to travel far.
One thing I initially found curious was a little bit of coolness from business owners. Then I overheard one saying that he had been working every day for six months, with another month still to go before the end of the season. That's a long time without a break and probably explains whats going on. I'd probably feel the same way too.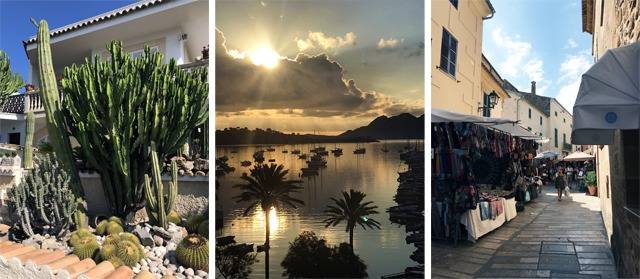 To summarise, I thought Port de Pollensa was a great destination that offers a traditional 'relaxing' type of holiday including swimming, walking and reading.
The price of the hotels varies in a way that doesn't relate to how nice a stay you will get. I know that because we stayed at three different hotels that week. In general, it was a good trip and we are planning to be going back sometime.