A Trip to Bruges by Eurostar
Our trip to Bruges started at 5 am when the gates to the London Underground opened. We had to wait 47 minutes for the first train with only mice and a time limit for company. I didn't know that tube trains stopped overnight, I had just assumed they kept going. We made it into the Eurostar waiting area for a train going to Brussels, which was mildly puzzling since we had bought tickets to Bruges.
It was only later, on Eurostar, that I deduced that the route we were on didn't seem to include Bruges and our tickets had all stations as the destination. We were going to need another train and some more time and that was going to chop a few more hours out of the 2-day trip.
Time Dilation in the Snacks Coach
As usual, Sibs had grabbed the window seat which meant two things: (1) I was going to get biffed in the shoulder by all the passengers that walked by with massive bags, coats and bums. (2) I would be the obvious choice to go and fetch drinks.
She wanted coffee so I queued up with a bag of euros saved from the year 2002 while the waitress moved imperceptibly slowly due to time dilation as described in Einstein's General Theory of Irritation. Several days later, I returned with a cup of what they had instead of what I was hoping to get, feeling irritated, just as Einstein had calculated.
Sibs said she didn't want it, but I wasn't done yet… I laid down a sleek looking Kit-Kat for her approval. In response, she pulled a dainty pack of special biscuits out of her bag instead.
In the Brussels station, Sibs used her mysterious intuition to choose a passage and then after a while stopped at a staircase leading to the very platform we needed with no clues that I could see. I find this ability quite uncanny and is the inexplicable part of her ability to spot and absorb signage in the blink of an eye.
Beautiful Bruges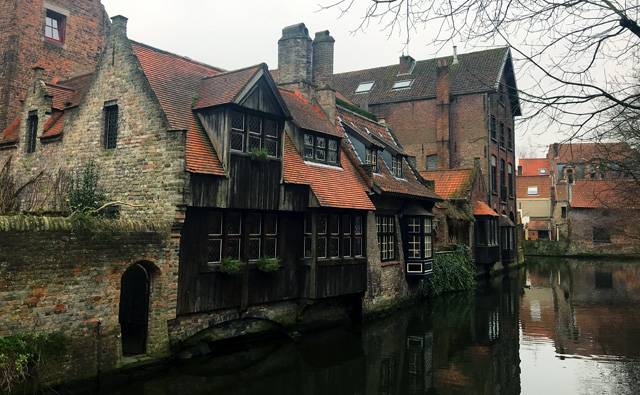 We arrived at Bruges. It was laced with canals and was being sold as a Venice of the North. The architecture was beautiful and we walked all over the place to several unavailable tourist locations, that were closed for winter. Then her daughter messaged her and she wanted to send back a photo of what we were doing, but she didn't like any of my snaps because they were all dull and cloudy looking. Pretty much what was in front of us, I pointed out, but she remained unimpressed with my skills, particularly in the 'sky' department.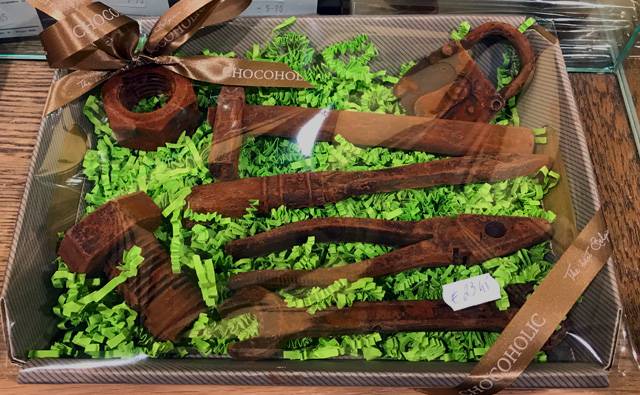 Ghent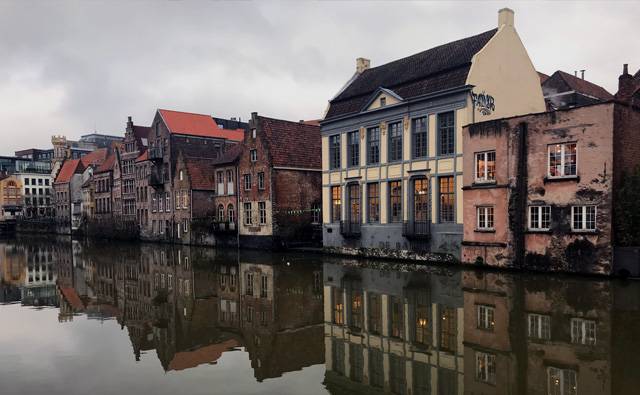 The next day she announced that we had 'done' Bruges and should go to Ghent. Fair enough I said. Ghent was a less pretty and a more functional city but it still contained great architecture, some of it a bit spooky looking.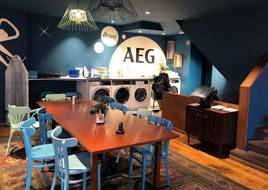 When we needed a place to eat we found a place called Wasbar. Inside it looked like a cafe and the downstairs tables were taken. Up the staircase, I saw some washing machines grinding away. The owner waved us on and we went upstairs, to what turned out to be an attractive layout that showcased 5 washing machines for reasons that eluded us. The reason is probably in the title since Wasbar sounds a bit like 'Wash Bar'. We ate an excellent meal with a background odour of washing powder, served by a shy young waitress who somehow knew some English.
We made the trip back via tram and train and that evening we had noodles. Mine had a black hair from the Japanese girl that had made a meal so. At least she was attractive, I reasoned.
The next day we got up at 5 am, didn't recognise the food bag that had been left for us in the wrong place, and went to the station and home feeling quite peckish and very tired.