Levada Walking in Madeira
We were looking forward to a spot of Levada walking. A Levada is an irrigation channel about a foot wide that carries water from the misty highlands of the interior to the crops on the coastal slopes. We had booked three places to stay on the East coast: Porta da Cruz, Santo da Serra and Funchal.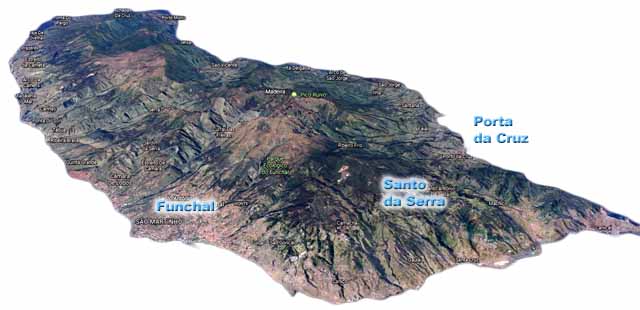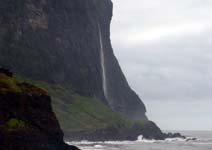 When our plane descended we attempted to extract something useful from the lady at the info desk. She thought we were a bit on the slow side because we didn't seem to know anything about the local buses and couldn't tell if the unmarked bus stop was the one she had been talking about earlier. We figured we'd be better off sorting it out for ourselves.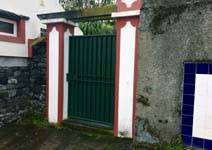 A taxi took us to Porto da Cruz and the driver rounded our fare up to €25 and said goodbye firmly, overlooking the fact that we were still plugged in our seats at the time. We meekly exited, wondering if that was normal practice or whether I should execute some amazing ninja moves on him.
There are few signs in Madeira, so it's hard to navigate. The streets are also really steep, so we quickly tired of looking for our apartment. In reality, we had found it twice from two different directions but the gates were unmarked on either side. There was nothing to differentiate it from any of the other unmarked properties.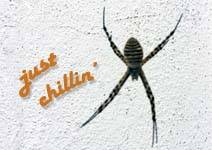 The owner called out to us after their dog spent 5 minutes making a lot of noise trying to eat us through one of their gates.
Next to the entrance was a beautifully striped spider with legs held together like a ballet dancer. Apart from turning around occasionally, it stayed put for the few days we there.
The owner showed us to our apartment and told us to come and find him if we had any problems. He didn't say how or where exactly, and I knew we had to get by the excitable, foaming dog to do that. It could take a while to reach his door with a dog clamped to my leg.
That afternoon we walked up into the hills at what felt like an angle of 45 degrees all the way. Another 6 days of this was going to be killing.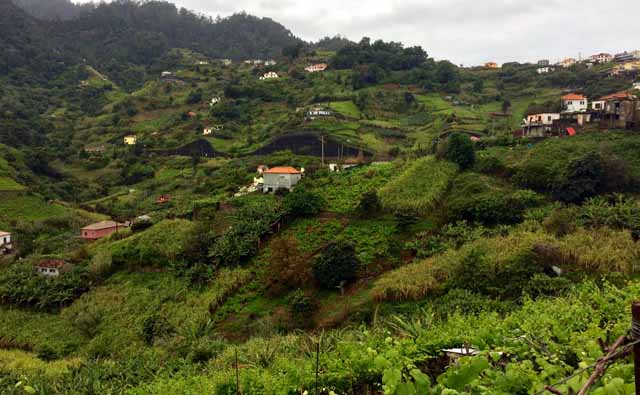 A Walk back from Portela
The next day we had breakfast at our favourite shoreside hotel. The cappuccino had cream on top and it was a bit stronger than earlier cups. Probably loads of calories. There are a lot of chubby people here, and since Madeira is quite steep, they must naturally congregate on the coast where it takes less effort to go places.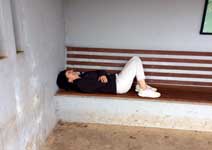 We decided to get a bus up into the hills to walk a Levada. They are all over the island, so if you like walking or are otherwise trapped by a Sunday followed by a Bank Holiday, that's the thing to do.
The bus stop was near to our apartment and we waited at the scheduled time. Then waited. Then waited some more. A local sauntered out and caught the next bus that turned up almost immediately after he had appeared. That wasn't ours either. While we waited, we chatted with a Polish guy and discovered that he had encountered a taxi driver who kept dropping his change in slow motion while offering it back. That trick must take hours of practice.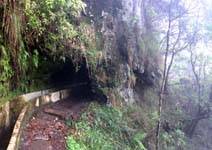 Eventually, a bus came grinding up the hill with its engine growling. The driver told us that on this particular day the bus we were waiting for did arrive on time as the schedule stated, it's just that it was somewhere else.
Our bus swung around the roads like a fairground ride. I was ok but Sibs tolerance was lower. By the time we reached Portela, she felt pretty sick and had to lie down for a few minutes. Meanwhile, I used the View Ranger app to locate the start of the walk. It was a great walk – up here the Levadas are peaceful and beautiful places if a tad misty at times.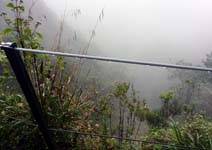 I figured the transport issues at the other end of the walk would be worth avoiding by taking a detour off of the normal Levada route onto another one. That way we could make our way to a walk back down to our apartment.
After 10 minutes the new route led us around to the start of a cliff face. There were railings made of cables and poles along the most exposed sections. I wondered how many of the poles would break away from their fixings before I might stop falling. I couldn't look, and taking a photo was completely out of the question. I was gripping the Levada edge and rail like a man possessed. Sibs, on the other hand, was fine with it.
After the cliff face part was over I was kind of sorry that I hadn't looked around a bit more. I knew it would be a memorable part of the trip. We found the start of the downward path and made our way on steep slippery slopes through the changing vegetation down into the forest canopy. Eventually, we reached the narrow lanes leading to the foot of the killing slope back up to the apartment.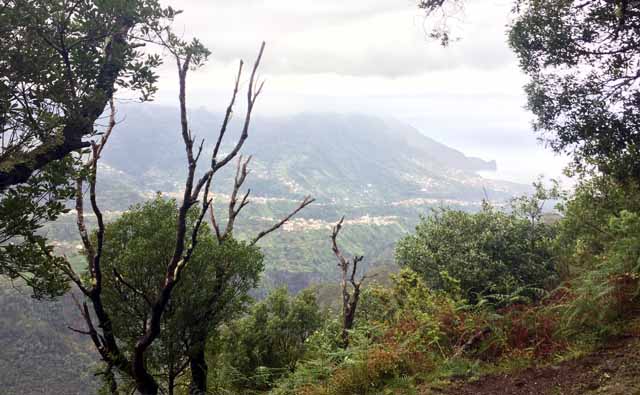 Santo da Serra
It's a Sunday, so most places are closed today, and the infrequent busses get even less frequent. We took a taxi to the Enotel Golf hotel at Santo da Serra where we were booked for two nights. It had a good vibe.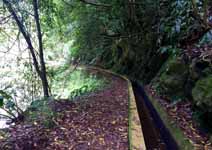 It was too early in the day not to go out so we visited the local market and later I selected a beautiful walk and duly guided us to the start of what looked and smelt like a dump.
With my credibility in ruins, Sibs took control and 5 seconds later a car turned up and offered us a lift, which she claimed as a 1-0 goal. They kindly drove down, down, down the steep hill to the start of a Levada they knew about and I tried not to think of the up, up, up part later. The Levada was somehow not as picturesque as the higher altitude ones, but still good.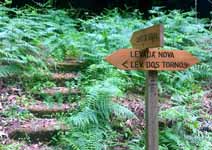 At the source of the Levada, we found some signposts that pointed straight up the valley walls. That was a long old haul up hundreds of steps followed by multiple steep slopes, that only very gradually levelled off until we finally, finally got there.
Despite all the exercise I had been doing lately, I still looked like a beached whale rather than an amazing person with shiny teeth. At the halfway point Sibs took some photos of me laid out gasping for air. My belly looked big enough to have its own passport. Very disappointing.
We got to the top and stopped off at a hotel for afternoon tea. By now I was barely alive, yet still able to push enough calories into my face to negate any gains I might have made during the tortuous ascent. What can I say?
We made it back to our hotel, but inside we happened upon a blackbird hopping along the corridors. We tried to coax it out through some doors but it wouldn't go until a third guest joined in to corral it into the right direction. Phew.
The next day was a bank holiday so there were limited options and frankly I was done for. We took a cheapo bus to Machico and from there to the Sao Lourenco Peninsula.

Rather than walk the length of the peninsula like tourist sheep we voted to flock together on the steep slopes and catch some rays. Not much grass though. But I did get some interesting photos of ancient lava flows with boulder-like ejecta embedded in it. Very nice, if you like that sort of thing.
Funchal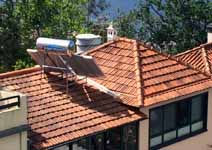 Due to the timetables we got up early and took the 0900 to Funchal direct and Sibs got sick again. The owner of our next apartment was a warm-hearted psychologist with a lot of chat. Her husband was an engineer who had rigged up solar panels and heat exchangers to heat their pool to 24°C. But Sibs kept me on the move all the time so there was no time for swimming. Most of the time I was either walking uphill or recovering from walking uphill.
We found the old town and walked out through to the new and it's small but attractive garden where we found a wall covered in small lizards, a banana tree in flower and soggy pigeons.
In the remainder of our holiday, we stayed near Funchal. One day we took a catamaran trip out, which was a good excuse to lay down for a couple of hours, but we did see a pod of bottlenose dolphins. On another day we used the hop-on-hop-off bus service and found a coastal path at Camara de Lobos leading back towards Funchal. It's not well publicised but it's a good walk. We followed it via a tunnel all the way to the Forum Madeira shopping centre.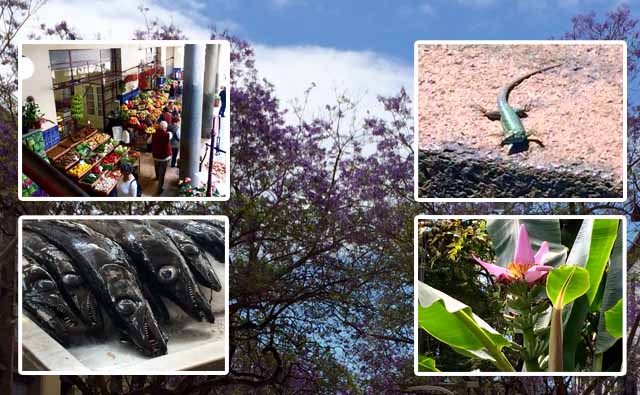 Time to Go Home
We had to leave for home just as the Flower Festival was starting, which was a shame. Thanks to Madeira's very friendly people and an interesting landscape we had a great time, and if you like walking, this is a good place to do it.