Lake Geneva Trip with Surprise Strip 'n' Dip
We like to go to cold places where it's not so obvious what you are supposed to be doing. At least one of us does anyway. With that in mind, we thought we'd leave our cosy UK home and venture out to Lake Geneva, with a cost of living three times more expensive than ours, as it turns out.
"There's so much to do", she says in her 'cup half full' kind of way.
Charlie Chaplin Lives On
For our destination, we picked Vevey on the North shore of Lac Leman (Lake Geneva). The accommodation was arty, our host was keen on amateur dramatics and his hero is Charlie Chaplin. There were theatre themed ornaments of all kinds, including a shelf full of Chaplin films, a chest full of Chaplin memorabilia, Chaplin cardboard cut-outs and a half-sized Chaplin model. I've never liked Charlie Chaplin.
Each day we were asked two questions. The morning question was "are you going to the Charlie Chaplin museum?" and the evening question was "did you go to the Charlie Chaplin museum?". During our stay, we answered 'no' every day.
On our last morning, we literally hid behind a breakfast tray, which isn't that big, so he spotted us. Our host then pointed out that since we hadn't been to the museum yet it would be a great reason to return, and we agreed enthusiastically!
But let's not jump ahead, at this point in the holiday we have only just arrived.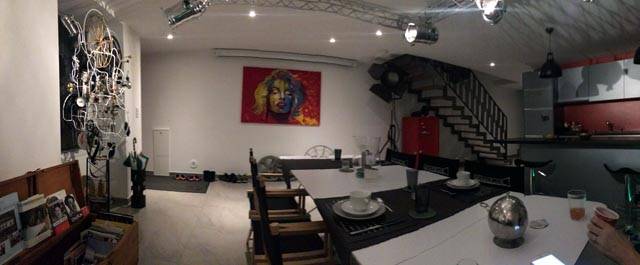 Up to Les Pléiades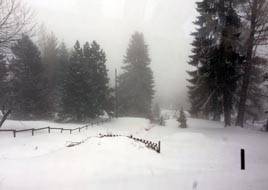 On day 1 we took a funicular railway up to Les Pléiades. As the snow was falling, it wasn't possible to get a view of the Geneva area.
We discovered a Nordic Walking path down to Blonay but without frequent clear markers to follow there was a high probability of getting lost in the snow, so that seemed like a bad idea.
After marching about a bit in the snow and taking in the views, we settled for the Restaurant Les Pléiades, which was very pleasant since no-one else was filling the other 50 seats. The service was still a bit iffy if you ask me.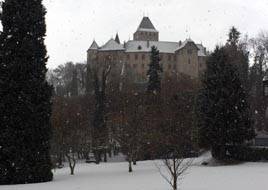 We had a whispery coffee so as not to be overheard and decided to take the train back down to the half-way point at Blonay and walk back to Vevey from there. Basically, I just say yes to everything, which is an arrangement she's quite keen on.
Having started walking as planned, we duly trudged past the Château-de-Blonay and admired it stoically from a distance. There was absolutely no way I was going to put the effort in to see if we could go in or anything since we already had a long old walk back. With some patience and guesswork, we made it into town.
Where the Fork's That?
I was keen to visit the shoreline, as we had not taken a good look at the biggest feature of the area yet. The clue is in the title, it's a massive fork.
It didn't take long to spot the sculpture planted in the lake. These days I tend to prefer art like this which is much more graphic and less concerned with personal statements. Once that kind of artist start talking it's like "yadda, yadda, yadda", and who really cares, huh? huh? huh? …exactly.
After all that time in the snow, I was thrilled to be looking at the massive chilly fork, and therefore assume you will be too so here are all the fun facts:
The fork is made of stainless steel and stands 8m tall. It was designed by Jean-Pierre Zaugg to commemorate the 10th anniversary of the Alimentarium in 1995 for a year. In 2007 the fork returned for a cutlery exhibition and was kept by popular demand. I bet you're dying to know so much more about this massive fork, so just click here and lose yourself in fork heaven.

– Yes, I wrote this, so it's not really a quote.
Yes, Really, a Fork Video
You might think that's strange but what's really puzzling is why fate brought you here to read this. It puzzles me anyhoo.
How Not to Get to Saint-Saphorin
Day 2 commenced with a walk in the heavy snow to Saint Saphorin. We set off and strode confidently into a cul-de-sac. No matter. We backed up a bit and ploughed onwards and upwards.
After failing to coax a puzzled local into entertaining us with a tour of his winemaking facilities we pushed on once more into the snowy roads.
We were attempting to follow a route on an iPhone but the map in the background had disappeared and could only be recalled with a mobile signal. We could see that we were moving away from the blue routing line that was rotating on a white screen. Yup, this is my life. I paid for this.
After faffing about uselessly for an hour we aborted that shambles and took a train to Montreux instead. Much more interesting.
The Excellent Chillon Castle and Montreaux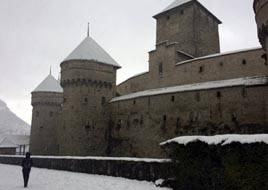 When we arrived at Montreaux we made our way to the information office to warm up. Our enthusiasm to look any anything was probably a little bit of a puzzle to them.
Although already tired, we decided to go to Chillon Castle by walking East along the edge of Lake Geneva. As we neared the castle, Sibs spirits plummeted. I had to resort to a spot of brow-beating to push the troops onward. Meanwhile, she was grinding down my morale with some well placed negative psychology and misery-inducing sighs.
But I was having none of it. Spurred on by the St. Saphorin fiasco, I made a pact with myself to get there just because we had agreed to, even if it was closed. All we really wanted anyway was a warm drink from the cafe inside and we could tick that box and be on our way.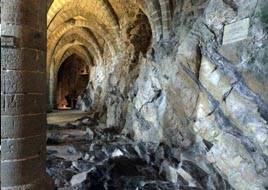 But Chillon Castle wasn't closed, and we were carrying access to half-price tickets as well! Nice! We
paid the entrance fee and went in for the warm drink.
It took no time at all to discover that Chillon Castle was so much more than the few walls and plaques I had gotten used to seeing back home. I have to say it was the best castle I have ever visited! A large number of rooms were accessible and there were multiple levels. All the rooms were linked by passageways, staircases and wooden walkways. At the lowest level, we found a charming scene being played out from a projector as silhouettes on the wall. Very arty, clever and interesting.
The best parts for me though were the walkways running along the tops of the walls, going here and there. Everywhere we roamed was interesting and connected to even more rooms, stairs and runways. It was all very interesting and much recommended for visiting.
Geneva on Sunday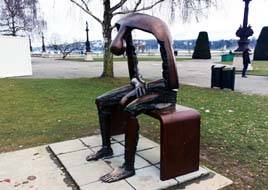 On our last day, we left our Chaplin oriented host and went to a hotel in Geneva. Our hotel was right on the main station and our panoramic view was not facing Lake Geneva, just the station. Hmmm.
The door key weighed half a kilo, but we took it with us anyway as the staff seemed happy to hand out anyone's key to whoever asked without checking. I mean hello!? ever heard of security?
As it was Sunday, the only open shops were at the train station, so we headed there first and then walked down to the shore and made our way slowly along the edge. There we found the Jetée des Pâquis that formed a harbour and there was some decking on the freezing water. It was so cold that there was ice up on the jetty.
We were sat on a bench looking at the Jet D'Eau when a couple of girls stopped in front of us with a towel, stripped off to their knickers right there and then and got in. Afterwards, they shared a few kisses too, which was all very interesting and a bit embarrassing. I gazed majestically into the distance as if I hadn't seen the who thing and taken a bit too much interest in it.
Afterwards, a bystander told us why it's not so cold really. She seemed stressed out and said that she often goes for a dip in the freezing water to unwind. However, although I waited a really long time she didn't strip off, and I eventually sauntered away.
After walking down to the Pont du Mont-Blanc road bridge we stopped at a lovely Paris style cafe called the Ladurée. We ordered two coffees and a single chocolate slice between us, which cost £27. Just to confirm that, it was indeed twenty seven pounds. The exchange rate sucks! However, it was such a nice day, the water jet was impressive, and throughout our stay, everyone was very warm and welcoming. Thanks, Geneva :0)