MSFS: Useful Things to Know
Learn a few useful things to know starting up and shutting down Microsoft Flight Simulator and how to join public beta releases.
This article is a subsection of
How to Optimise MSFS for VR
How to Start MSFS at a Higher Priority
Assuming you have already found that running at a higher thread priority works for you you can start the program from a batch file like this:
cmd /C /ABOVENORMAL start "" shell:AppsFolder\Microsoft.FlightSimulator_8wekyb3d8bbwe!App
The available thread priority levels are
/REALTIME – one you should probably never use or your system may lock up
/HIGH
/ABOVENORMAL
/NORMAL – the default value
/BELOWNORMAL
/LOW
You can combine this with the quick start parameter as well. Personally, I do not like altering the thread priority since it can adversely affect the balance of a myriad unknown processes that may affect the overall efficiency in other ways.
How to Start MSFS Quickly
You can make a batch file that has the following single line in it for the Microsoft Store version of the program. Essentially you are adding a '-fastlaunch' option to the MSFS command line that it will read on startup. The intro videos will be skipped and the loading sequence will start immediately.
Cmd /C start shell:AppsFolder\Microsoft.FlightSimulator_8wekyb3d8bbwe!App -FastLaunch
Or you can add the -Fastlaunch parameter to a shortcut to MSFS to achieve the same result. and you can raise the thread priority at the same time.
How to Exit MSFS Quickly
During testing you can exit MSFS instantly by pressing ALT+F4. Be aware that the sim may start with a "start normally?" question when you next start the program. That will be disappointing if you walk away from the computer thinking it is loading the sim.
How to Join a Public Beta Preview
Open the Xbox Insider Hub app
Under Previews click on Microsoft Flight Simulator Beta
Click on Join
Click Continue
Restart your PC
Open the Microsoft Store app
Select your library at bottom-left
Click on Get Updates
When the update has completed, run the sim
Install any other updates available in the sim
Monitor Your Startup & Runtime Load
Startup Delayer
This is a really useful tool that allows you to supervise your start-up programs.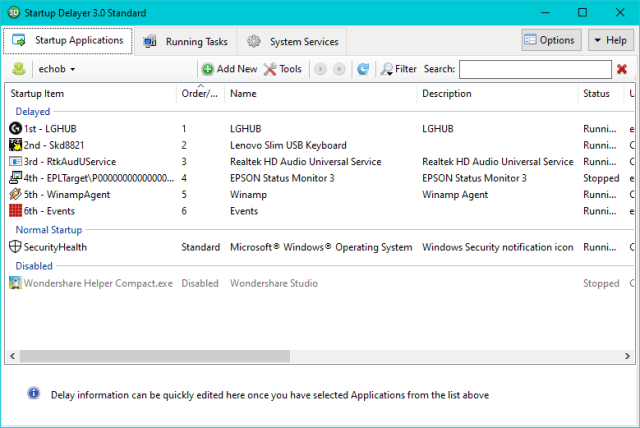 The Startup Delayer is so called because it will control the order and time that programs will start up when windows launches. He should have called it Speedy Start or similar instead because that's the actual improvement a user sees.
You can order the startup sequence to give yourself a much more responsive computer when it starts. The launch times for you programs list can be accessed in chart form from the Tools menu.
Secondly, you can see the programs which are being launched at startup and you can choose to disable and delete those that don't suit your needs or were added without your consent. The Normal Startup category is for the key programs in your computer. The Startup Item list are for user selected programs you want to be launched but which are not vital to the computer's own health or systems. The disabled section can be used to disable programs that you don't want to be in the other two lists.
Task Manager Startup Tab
You can also use the Startup tab in Windows Task Manager to see if there are any processes there that you haven't been aware of as well. I cant show you what it normally looks like because I've already removed all the programs I don't like!
This article is a subsection of
How to Optimise MSFS for VR
Related Articles