Learn a few useful things to know starting up and shutting down Microsoft Flight Simulator and how to join public beta releases.
Global Vegetation
There are two vegetation addons that I know of:
Rex Accuseason
Bijan's Vegetation packs
I have used both and I started off with Bijan's vegetation packs. In the end I prefer the Accuseason product for several reasons, but primarily because of the way the seasons are managed and in my opinion the vegetation looks more natural. Others will disagree since Bijan has a very loyal fan base you will have to look at review videos to decide for yourself.
In Accuseason the gradual colour transition through the seasons works well, especially where deciduous trees change colour during Autumn, and the user interface is a very good looking and intuitive implementation.
On the negative side, Accuseason doesn't have a one-click update to adjust the colours to the current day of the year. Instead it offers a scheduled task, which isn't the kind of solution I am willing to use. Instead, I've found a partial solution: manually invoked dynamic updates.
Note:
for those that also do not like the sounds that are played when Accuseason starts up, replace or remove the wav file in the 'files' folder where Accuseason has been installed. This is another thing that should be in the options as a setting.
How to Manually Invoke Dynamic Updates for Rex Accuseason
You can manually invoke dynamic vegetation updates without the scheduled task. What you will be doing is enabling the task in Accuseason but deleting the task from the Task Manager. Accuseason will have recorded that a dynamic update is required when it starts and so gets on with it straight away. I hope that Rex do not neutralise this solution in future.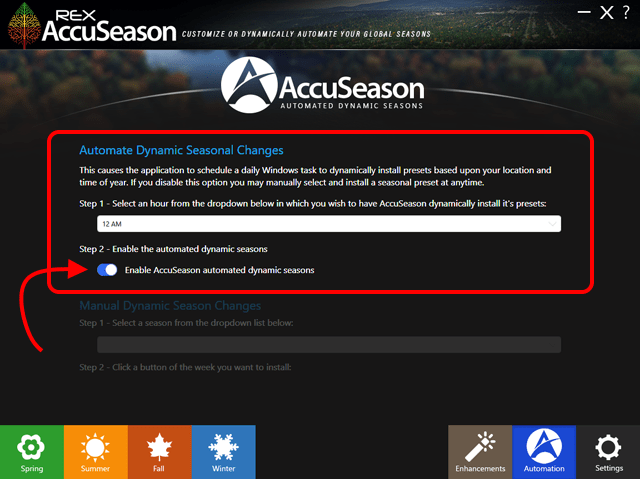 How to enable manual dynamic updates
Go to the automation tab of Rex Accuseason as shown in the screenshot
Enable Accuseason automated dynamic seasons
Close Accuseason
Launch Windows Task Scheduler
Find the Rex Accuseason task at the foot of the list
Select and right click the task then choose 'delete'
All done. When you next run Accuseason, it will appear as normal and auto load the right vegetation for the current day. It does not close when finished, but that does allow you to change to a different season if you want.
This fix helps a lot but a better solution would be for Rex to make an specific one-click solution that runs invisibly in the background when required.
Flow by Parallel 42
Parallel 42 is often written as '//42'.
This is a significant addon that creates a hierarchical menu system that supports scripted modules. These are the things you should be aware that it can do:
Optionally replaces the MSFS menu
Works in VR (see the video below)
Is a nested hierarchical menu if you want it to be
Adds new automatically rings at the high level as you fill up the available slots
Has a 'dynamic' ring that appears for your selected aircraft only
Has tools that have been created by //42

Portal: a moving map, friend finder and teleporter widget all in one.
Weather widget showing temperature, pressure wind speed and direction
Twitch integration for Pro users
More

Scripting for Pro users allowing scripts to be created, exported and imported.
No doubt shortly there will probably be a lot of scripts on Flightsim.to doing a whole host of things. //42 have said that the scripts are capable of controlling hardware (hue lighting as the non-serious example) and therefore software, probably anything that is networked.
You can buy Flow via Orbx.
Related Articles