Microsoft Flight Simulator Basics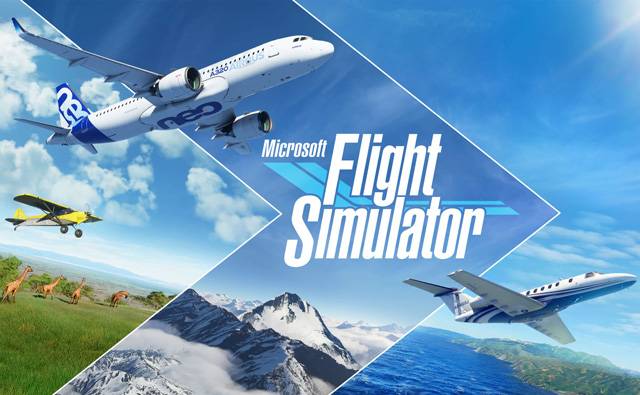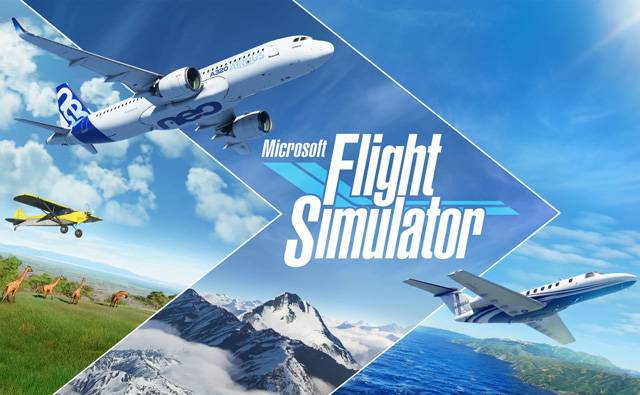 The Asobo-Microsoft Flight Simulator is a superb flight sim. Here are a few of the things I have discovered so far.
How to Get MSFS VR Up & Running
For those that are just about to configure MSFS for VR and want some confirmation that they are heading in the right direction.
Ensure Microsoft Flight Simulator is completely up to date.
Ensure your PC system is up to date including graphics drivers.
Install the Windows Mixed Reality Portal app from the Microsoft Store
Install the Windows Mixed Reality OpenXR Developer Tools app and

Install OpenXR for Windows Mixed Reality from the 'home' tab
Set 'Use latest preview of OpenXR runtime' to 'on'

Use a text editor to ensure OpenXR has an ActiveRuntime key that leads to a JSON file that is correct for your computer (Refer to 'Check the Active Runtime Path).
Enable the use of beta versions of Oculus and SteamVR software:

Oculus users should open their OculusClient app (the one that provides the connection to the headset in VR), find the settings page and enable the Public Test Channel. Close and reopen the app to collect and install several updates.
Steam users should opt in to the SteamVR Beta via the SteamVR properties.

Be sure to collect updates for the beta versions then restart your PC. Check for more updates and restart again as necessary.
Launch MSFS
Launch Oculus or Steam VR etc as you usually do for VR
Be sure to set a control in MSFS to reset your view in VR as this will be the first thing it will ask you to do when you change to VR mode.
To switch to VR mode go to Options > General > Graphics > VR Mode and press 'switch to VR'.
You should now see an image in VR.
Use your mouse to interact with MSFS. Click the mouse buttons to bring a cursor into view.
If you have any problems getting into VR, check that your ActiveRuntime path is still set to the correct JSON file.
Check the Active Runtime Path
This section is a duplicate of the article you can find here:
How to install OpenXR
https://flightsimulator.zendesk.com/hc/en-us/articles/360018555179-How-to-install-OpenXR-
(check this link for any recent updates)
If your VR isn't working this is the most likely cause. You will need to edit the registry and insert the correct path as described below. Its relatively easy to change the active runtime by mistake simply by pressing buttons in OpenXR user interface – – they don't tell you that you are tripping yourself up.
Windows Mixed Reality Headsets
No action needs to be taken if you are using a Windows Mixed Reality headset.
Non-WMR Headsets
Oculus users opt-in to the Oculus Rift Public Test Channel to enable support.
(Note: this link just tells you to enable Beta versions on the Beta tab of OpenXR).
Before using VR in Flight Simulator with an Oculus headset, the computer needs to know the location of the OpenXR runtime to use. Follow the steps below to set this location in the registry:
Right-click on your Start menu and select Run.
Type in "regedit" (without quotations) and hit Enter. This will launch the Registry Editor.
Locate the following key: HKEY_LOCAL_MACHINE\SOFTWARE\Khronos\OpenXR\1
For ActiveRuntime change its value to the one that matches your platform (note: default path is shown below): C:\Program Files\Oculus\Support\oculus-runtime\oculus_openxr_64.json
Close the Registry Editor. You are now ready to enter VR with your Oculus headset.
SteamVR users opt-in to the SteamVR Beta to enable support:
https://www.vive.com/us/support/vive/category_howto/optin-to-steamvr-beta.html
HTC VIVE Cosmos users please opt-in to the VIVE Cosmos OpenXR Developer Preview to enable support: https://forum.vive.com/topic/9046-vive-cosmos-openxr-developer-preview/ 
For other VR headsets, please contact your headset manufacturer to see if they support OpenXR with Microsoft Flight Simulator.
Optimise Your Settings
You can find a list of the settings and adjustments you can make to MSFS here in order to get the best out of the system you have.
Which VR Capable Graphics Card?
Most of us are waiting to get our hands on the new AMD or nVidia graphics cards, but Asobo Studios have done such a good job on the graphics that it actually runs very well on last-gen cards at a reasonable 2D size.
There is a lot of interest in gaming at 4k resolution and this can also be a useful metric to gauge how well a VR headset would respond to a particular graphics card.
4k Screen: 3840 x 2160 = 8,294,400 pixels
G2 Headset: 2160 x 2160 x 2 = 9,331,200 pixels
Rift S Headset: 2560 x 1440 = 3,686,400 pixels
The Reverb G2 VR Headset
For price vs quality the G2 headset is the leader at the time of writing, however there are a few snags that stop me from buying it:
Controllers with a 6 Hour Battery Life
Each controller also requires two high voltage batteries that can be drained in 5 to 7 hours. EU and USA owners can use the required Ni-Zn 1.6v batteries and chargers, but UK batteries are more commonly Ni-Mh at 1.2v which have issues. Compare this with Rift S controllers can last weeks on a single battery.
Weak Connectors Cause Noise in the Signal
I have read that the cable supports and connectors are prone to breaking. Users have been reporting flickering displays caused by the connector between the headset and the data cable. Users DIY solutions involve strengthening the connector and reducing strain by supporting the affected area with zip-ties.
No Head Strap Adjustor
The G2 models do not have an adjustable dial at the back of the head strap to tighten and loosen the strap. This is a low cost omission that users will encounter 100% of the time, along with the problems it causes.
The need for a good graphics card to drive the displays.
Right now a combination of Covid19 and Ethereum currency mining have made it very difficult to buy the new graphics cards required to be able to drive the displays to their best advantage.
Microsoft Flight Sim Tips
How to Exit MSFS Quickly
Use ALT+F4 and the sim will exit without delay.
How to Put Instruments on External Windows
Move the in-game cursor to the instrument panel
Press Right ALT
The cursor should turn into a magnifier icon with a + mark.
Click the left Mouse Button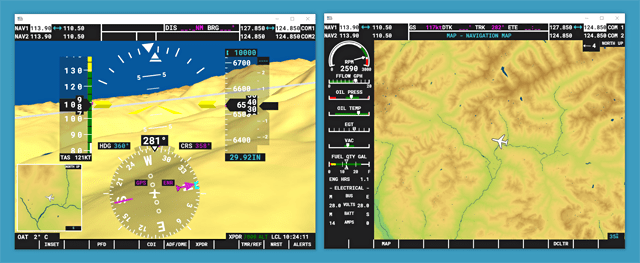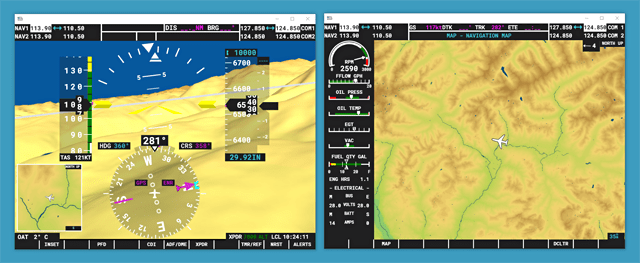 Aviation
These are some of the things I have learnt while getting to grips with flight sims.
Marshalling Signals
These are the signals I have encountered in the Sim so far in MSFS.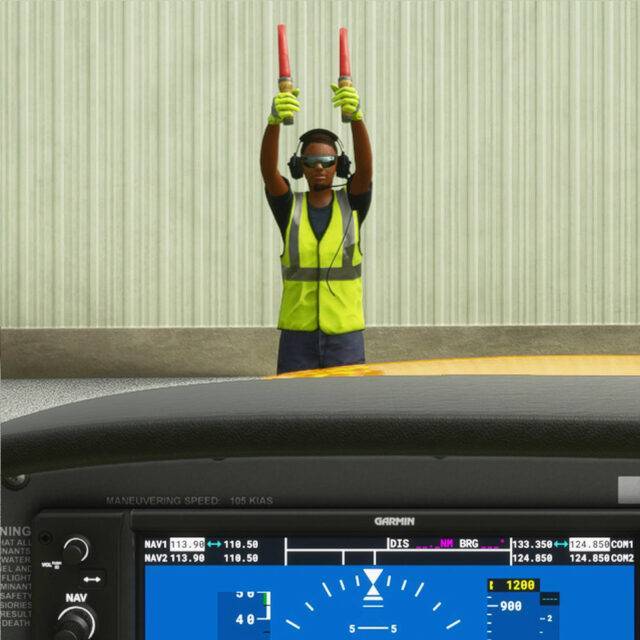 Slip Manoeuvres
These manoeuvres use the ailerons and rudder to counteract each other so the aircraft does not turn, while maintaining a constant speed. Pitch or power are used to maintain speed.
Side Slip – Landing in a Cross-Wind
A side slip can be used to hold the aircraft over the centre line when landing in a cross-wind, or to slip the aircraft towards the centre line when necessary.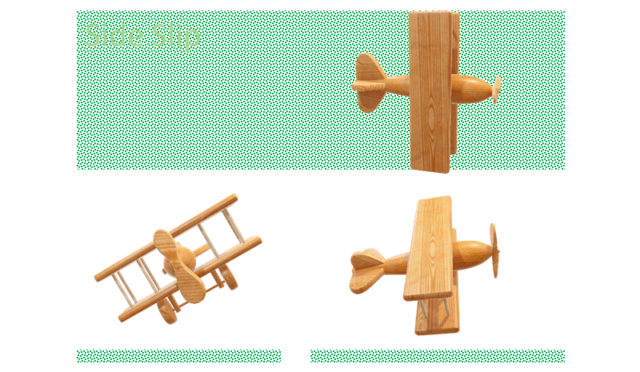 Bank the aeroplane towards the direction of the cross-wind and keep the angle steady. Use the opposite rudder to keep the aeroplane parallel to the centre line. Speed is maintained using power variation.
Forward Slip – Decrease Altitude
A forward slip is used to decrease altitude by setting the aircraft at an angle to the direction of motion. This is not the same as 'crabbing' where the aircraft is compensating for a cross-wind to achieve a course.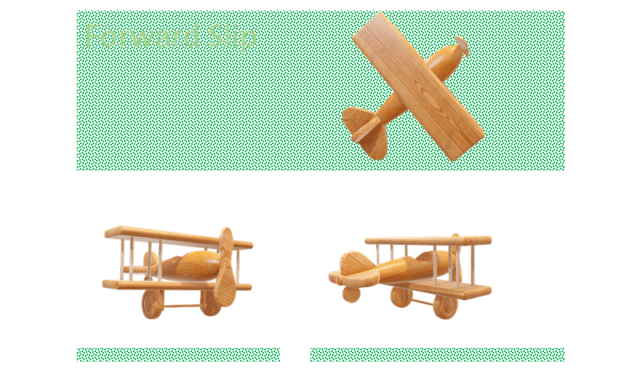 The aircraft will be at an angle to the forward motion with wings level increasing resistance to cross-wind. The aileron and rudder are set to counteract each other and speed is controlled by the pitch of the aircraft.
Lights, Meaning and Use
Lights are used in a practical sense to help people see you, so there will be a variation in the conventions, especially between commercial and GA aircraft.
During the day, only the beacon light is mandatory although use of landing lights and strobe lights are encouraged.
At night and poor visibility, all of the lights come into play:
Engine off – no lights
Engine on – NAV, beacon
Taxi & waiting to cross runway – NAV, beacon
Runway – strobe, NAV, beacon, landing lights
Within 10 miles of airport – strobe, NAV, beacon, landing lights
Flight between airports – NAV, beacon
Within 10 miles of airport – strobe, NAV, beacon, landing lights
Runway – strobe, NAV, beacon, landing lights
Taxi & waiting to cross runway – NAV, beacon
Engine on – NAV, beacon
Engine off – no lights
NAV
These are coloured lights to help others determine the orientation of your aircraft. General aviation planes use NAV lights at night and in bad weather. Green = Right, Red = Left, White = Rear. Commercial aircraft may leave them on while the engines are running.
Mandatory Rotating Red Beacon
Beacon lights flash red and they should be on while the engines are running and for the duration of the flight. Turn on before starting the engine, turn off after stopping the engine. They will be used night and day. They may be turned off in dense fog if they impair the pilots view.
Strobe Light
Night use mandatory, daytime use optional. The strobe light is an intense white light that should be on when entering a runway, in the air and before exiting a runway. They will be off when on taxi ways. They can be turned off in dense fog if they impair the pilots view.
Landing Lights (airport)
Night use mandatory, daytime use optional. Although intended to illuminate the ground at night, pilots are encouraged to use them day or night during take-off and landing up to 10,000ft for commercial aircraft and with 10 miles of an airport.
Taxi Lights (airport)
These should be on when taxiing and off when waiting to cross a runway.
Points of Interest
On the world map there are two search boxes. One is to locate airports and the other is for general searches where you can type in the name of a point of interest to locate it.
My Mont Blanc Altiport Challenge (LFHM)
Depart from the beautiful altiport at Megève (LFHM) and fly East to Mont Blanc where you can find three altiports to try your landing skills. In increasing distance order these are:
Dome du Gouter Altiport
Altisurface du Glacier du Tacul
Altiport du Glacier de Talèfre
Monument Valley (UT25)
A short flight South from UT25 takes you to these beautiful rock formations, a vast improvement on the default mapping in the early release.
Sarek National Park (ENRG)
Located in Finland at lat/long 67.3781, 17.5956, the available airports are a fair distance away. These shots were taken with the date set to June providing really nice zebra striped mountains and green valleys.
Itsukushima Shrine, Japan (RJOI)
Nearby airport: RJOI Iwakuni MCAS
The Itsukushima Shrine is on the island of Miyajima located in Hiroshima Bay and has a torii gate off-shore. The base of the 16m high gate is exposed at low tide and it is possible to walk to it. The main building houses shrines, stages and halls which are open to visitors. Unfortunately, I have been unable to locate other significant pagoda style buildings as part of the default scenery. I'm a big fan of the Japanese styles and philosophies.
Oil Rigs, Gulf of Mexico (KPTN)
Hundreds of illuminated oil rigs can be found in the Gulf of Mexico. The nearest marked airport is Williams Memorial (KPTN), fly 205 degrees.
Stewart, British Columbia (CZST)
The type of lighting and the vast scale of the terrain in British Columbia is hypnotically atmospheric. A decent flight is from CBY2 Machmell Fisharies to CQRA Quatam River , as demonstrated by Mark at Simhanger. If you want to do the same you will need to load some freeware airstrips from msfsaddons.org and restart the sim.
Bush Flying, Washington (6WA5)
I like to practice take-off and landings frequently and you can do this in the Washington area. There are well over 75 airports in the general location of 6WA5.
These airstrips are located on islands with a mixture of surfaces, with some being satisfyingly rough and awkward. It would make a good start location for an aviation business addon such as NeoFly.
Reykjavik, Iceland (BIRK)
You can find Reykjavik as a free download msfsaddons.org. At street level you can see the contents of shop the windows. When MSFS has its freeware gateway, this would be an excellent location to be absorbed into the base sim.
Chile (SCTB)
Nearby Airport: SCTB Eulogio Sanchez
For this trip I was flying a Cessna 172 Skyhawk. The mountain tops were just a little bit higher than the maximum altitude of the Cessna at 14000 ft, so I was unable to cross the peaks to the other side.
The Alps
LSGS Sion, LOWI Innsbruck, LSZS Samedan, LFLP Annecy, LIPB Bolzano, LIMW Aosta Valley, LFLJ Courcheval, LFLG Grenoble, LFNC St Crepin
Because the ground level is normally significantly higher than sea level you have to pay attention to the fuel mixture right after take-off. I've noted that when I choose an 'auto-start' entry into the sim, the mixture can be pre-set as low as 55%. Whenever you go above 3000 ft it's a good time to check your mixture ratio. You can be pushed into the clouds at 9000 ft and encounter icing where you risk literally dragged out of the sky by decreasing performance.
Best Landing Challenge Score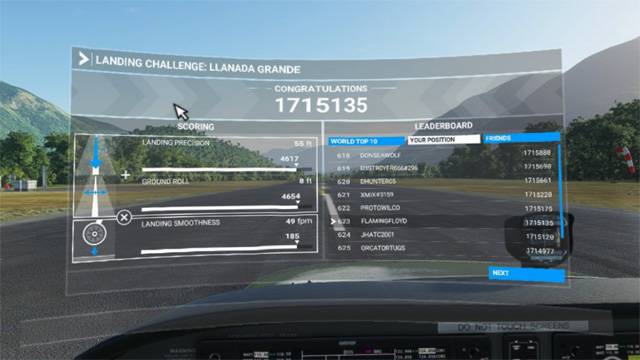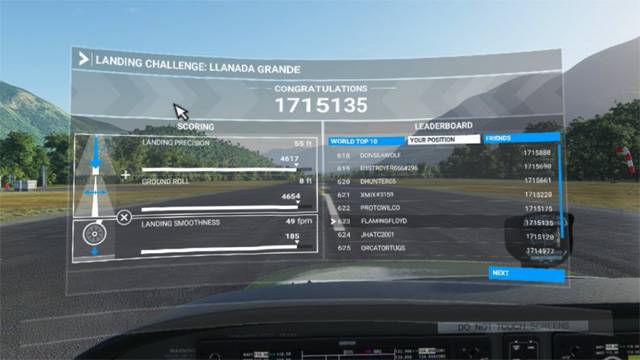 1.7m is th highest score I've achieved so far. Its a shame they don't say how many people are in the competition in total, it could be the difference to being near the top or near the bottom of the total list.
Related Posts
Feedback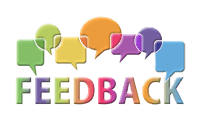 If you would like to make a comment or want to let me know of any corrections, suggestions, or enhancements...

You can reach me via the contacts page