You must always keep in mind that a path is only a path; if you feel you should not follow it, you must not stay with it under any conditions
Carlos Castaneda
Years ago I started reading a set of books by Carlos Castaneda. They were about the experiences of the author with an American Indian sorcerer as he undertook a path the spirit world aided by peyote and spirit guides. I read several books before I was eventually alienated by the difference between the fantastic imagery detailed in the book, and the ordinary events of real life.
I didn't mind that so much because along the way I found some significant points of view that affected the way I considered day to day living. The following section deals with choosing something meaningful to you, and rejecting things that are not.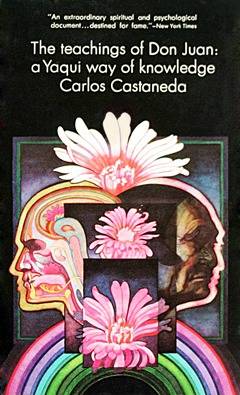 A Path With a Heart
Anything is one of a million paths. Therefore you must always keep in mind that a path is only a path; if you feel you should not follow it, you must not stay with it under any conditions.
To have such clarity you must lead a disciplined life. Only then will you know that any path is only a path, and there is no affront, to oneself, or to others, in dropping it if that is what your heart tells you to do. But your decision to keep on the path or leave it must be free of fear or ambition.
I warn you. Look at every path closely and deliberately. Try it as many times as you think necessary. Then ask yourself, and yourself alone one question… Does this path have a heart?
All paths are the same: they lead nowhere. They are paths going through the bush, or into the bush. In my own life, I could say that I have traversed long, long paths, but I am not anywhere… Does this path have a heart? If it does, the path is good; if it doesn't, it is of no use. Both roads lead nowhere, but one has a heart, the other doesn't. One makes for a joyful journey; as long as you follow it you are one with it. The other will make you curse your life. One makes you strong; the other weakens you.
References
The first book in the series is 'The Teachings of Don Juan: A Yaqui Way of Knowledge' – ISBN 9780140192384  – available at Waterstones bookshop.