There are many ways a film can go wrong. There is a sea of people involved and multiple stages the development has to go through, each of which can break the outcome. Here are some movies that have leaped all of the hurdles and made a good impression.
X+Y
also entitled A Brilliant Young Mind
Geek Alert! A film about awkward people. Be of good cheer… you're not the only one with issues!
Asa Butterfield is the central character in this film about a mathematical prodigy with autism. His inability to interact with the world and find acceptance is gradually dissolved as he engages in an international maths competition in Taipei. When in the company of these similarly gifted individuals, his awkwardness is diminished and he begins to forge friendships.

Asa is a natural to play the part of this sensitive individual and is perfectly matched with Sally Hawkins as his mother who exudes a similar fragility. If any of this piques your interest then this is a 'must-see' film for you.

Extraction
This film is similar to Noomi Rapace's Close whereby our hero is protecting a wealthy youngster in peril.
Here we see a moody and magnificent Chris Hemsworth knocking the crap out of a skip load of shady dudes. The fight scenes involve everyday items such as pitchforks, bricks, and other odds-and-ends making them a bit more eye-watering than the clinical shoot and die stuff which also happens throughout.
As per a superhero film, you will have to ignore the fact that a few hundred experienced men can't sort him out. If you can do that, you'll be fine. Female fans probably won't mind either way.

Maudie
Maudie follows the life of a disadvantaged outsider making her own path in the world in spite of being pushed to one side. It's classed as a tear-jerker and is a low key relationship type of film.
Sally Hawkins and Ethan Hawke carried the film and they both did an excellent job. Sally is a gripping actress to watch and the blossoming of their relationship from such a poor starting point was incredibly heartwarming.
You can find a discussion of the film by the actors and director here.

Last Christmas
Emilia Clarke is the amusingly despondent centre piece of this story written in part by the talented but smug Emma Thompson.
At a time when she should be feeling happy she is instead feeling quite lost working as a questionable elf for Michelle Yeoh. When she meets the elusive Henry Golding things start to improve.
Reviews for this film have been lukewarm, but I enjoyed it completely. I'm a big fan of Emilia's positive vibe and mobile eyebrows.

The Aeronauts
Felicity Jones and Eddie Redmayne are the professionals that glue this work of fiction together, made from a collage of facts drawn from the era.
These two look like they come from the same family actually, but since they don't, all is well on the relationship front.
Its a gripping watch and the sky bound setting is an unusual backdrop that provides more variety than you might expect. In combination with the period decorations the environments create a special atmosphere. A superior production.

Freaks
The lead girl in this film is Lexy Kolker and is a capable actress. Emile Hirsch plays the dad and looks just like Jack Black.
Its an awakening super-power type of film with a more interesting story than the blockbuster equivalents. The Freaks are being hunted down, and the reason for it gradually unfolds as the lead girl learns whats going on.
My interest was held throughout the film, which is a difficult thing to pull off now I've been inside due to the Covid 19 lock-down for a couple of months.

Into the Night
I am not a fan of the series format generally and I rarely make it through the third episode. This is an exception to the rule and since I'm in Covid 19 lock-down there was no reason not to watch the whole thing in one go!
That's 3.75 hours of subtitled mayhem and treachery with a mixed bag of dodgy individuals flying west, but without the Ryan Air logo.

The premise for the flight isn't down to LastMinute.com, but a massive change in the sun 's radiation so it microwaves everything on Earths illuminated side. Factor 50 sunscreen is not an option.

The Fundamentals of Caring
This is one of the funniest films I've seen for a long, long time. It had me crying with laughter at several points throughout the film. The exact same thing happened on my second viewing last night, so I felt I had to reference it here for you.
The lead actors are a perfect match and I've been a fan of Paul Rudd for since he first emerged on the big screen. Humour is a funny thing though, so it might leave you wondering why I found it so hilarious. What can I say… I'm English. As with a lot of things, you might need to allow the film a 10 minute grace period to allow you to acclimatise to what you are seeing :o)

Destination Wedding
Winona Ryder and Keanu Reeves are reluctant in general and reluctant wedding guests in particular with Keanu carrying a lot of excess baggage and a high defensive wall.
Despite remaining true to his principle that life sucks in general and that relationships are meaningless constructs, Winona's damaged and uncoordinated aura manages to seep into his psyche anyway.

The first time I saw this film was a laugh a minute as each scuffed and dejected gem tumbled from the dialogue and hit the cow-pat of life with a splat. I salute this film which, true to the spirit of the tale, made a loss at the box office. Don't be put off, it's a well made, heartwarming tale.

The Bookshop
Emily Mortimer and Bill Nighy star in this gentle, lightweight romance.
Emily portrays quiet dignity, determination, and poise as she becomes a new member of a community via her bookshop. In so doing she resists the wishes of an established local played by Patricia Clarkson and gains the support of Bill Nighy.
Everything about this film is low key and the positions of the main characters are clear. The interest lies in the tension between the characters and this is leveraged by the difficulties of running the bookshop.

Arctic
This is a gripping survival film from start to end.
Luckily, I had no idea what the specific content was about otherwise the fact that the film was carried mostly by one person would have put me off. However, Mads Mikkelsen is perfect for the part so there's no need to worry. Mads is exactly the type of person you would expect to be in this kind of situation and have the best chance of getting out of it. Iceland's Maria Thelma Smáradóttir was an essential contribution well played, minimal though it was.
It turns out that Joe Penna, who created the film, has a very interesting backstory. At the time of this film's making, He and his YouTube partner were finding that the income they were making from their YouTube channel would not sustain them. Consequently, Joe had applied for a job at Google to work for its international YouTube management program and had gone through several interviews to secure the job. With the final acceptance email drafted and waiting for approval from his wife, things started happening with the film Arctic.
Apparently, Mads Mikkelsen was looking for what he refers to as a 'rock and roll' film between Hollywood blockbusters. This was part of the sequence of lucky coincidences that made Joe's work catch fire. When asked how he did it, he simply says 'you just get lucky, that's how you do it'. However, you won't have any luck without putting the work in and having talent. Here is Joe's story about how he jumped from YouTube to Hollywood.

Close
A Netflix film – this is like a female version of the Bourne character based on the work of real-life female bodyguard Jacquie Davis, but more condensed and jazzed up.

I'm ok with that and its a really tense watch from beginning to end. I'm a fan of the lead: Noomi Rapace and she is aided by a perfectly presented eye-rolling youth in the shape of Sophie Nélisse who does a great job and looks the part, or maybe she's a pain in the ass for real. The two of them made a gripping ensemble.
The action takes place in Moroccan deserts, markets and hotels, not at all the kind of film I'd usually go for, but I thought Noomi Rapace would give it credibility and interest, and she does.

Cargo
In this post-apocalyptic horror Martin Freeman is trekking through zombie infested Australia with his family.
If you think this is going to be a hammy film you'd be wrong, Martin makes the film work really well, it's played straight and there are a fair few tense moments therein.
There is something special about his amiable middle aged temperament that is a solid bet for a lot of genres. Australians make films that are a breath of fresh air even when the air is filled with the stench of rotting zombies.

Train to Busan
This an extremely well tuned zombie apocalypse film made in South Korea with subtitles. Don't let the subtitles put you off. Its a highly rated film and that keeps the pressure up throughout.
It's also quite an emotional film but you can follow the situation even without reading the subtitles, so in effect you won't get lost.
If you've worked in the kind of places I have then watching the undead will be fairly normal by now. This is an exciting an polished ride that you won't regret spending time on.

Yes Man
This is one of Jim Carrey's best films. He plays the character of an amiable lost soul hiding home alone until drawn into a self-help group fuelled by all the usual irritating practices that provide the peer pressure.
In order to become more involved in the world, practitioners agree to say 'yes' to any opportunity that presents itself. That leads to a whole string of unlikely and bizarre situations. The whole setup is amusing throughout and the Jogging Photographers Club still makes me smile even though I've watched the film many times. This is a recommended feel-good film.

Limitless
Another 'proper' sci-fi film any self-respecting geek needs to see to stay accepted by his weird friends. It's a good concept sleekly honed with an almost comic-book like delivery in places. It's one of my favourites.

I can imagine it being a really good book to read if it were a book, which separates it from a lot of films right there. Bradley Cooper brings this character to life excellently well and his narration goes with it perfectly. By the way, the film editing is pretty zippy and works out like a comic strip from time to time, which I really liked and it had an unusual flavour.
Refreshing, clever but not in an 'I'm so clever' kind of way. The story line is great and plausible and I like the fact it isn't a 'guy saves humanity' kind of film. Great characters, acting, film effects, editing and story, all good.

Arrival
A rather good relationship-oriented film with an intriguing storyline that has a lot more going on than you first realise. Forest Whitaker turns up with his dodgy eye and does a great job of being the serious military dude.

Click here for a complete analysis of the plot.

Me Before You
Emilia Clarke is the whackily dressed, perennially optimistic helper for a paraplegic in the shape of Sam Claflin, who is on his way to the exit ramp of life. As a one-time athlete, the limiting lifestyle he is suffering is more than he wants to bear.
Against the odds Emilia brings a bit of sparkle into his frustrating life and who could dislike such a warm hearted optimist anyway. She is the tent-pole that keeps this film up, and speaking as a person who can't deal with depressing themes, I can tell you she creates a lot of smiles with her weird clothes and unabashed enthusiasm.

Black Mirror
If you have no idea what this series is then you might be in for a treat. There are 5 series with 22 episodes stored on Netflix and I've watched all of them like a dog with a bone.
In each story you can expect to see some aspect of technology featured in a dark tale, generally with a nasty twist in the end. They vary in length but are about an hour long so there's plenty of time for plot development but it's not dragged out to film length artificially.

If you are interested in the description so far, may I suggest you try Crocodile from season 4 which I've added to the trailer link above. It's filmed in Iceland, which is interesting in itself, and stars Andrea Riseborough from Oblivion. She has a few issues she's trying to forget and Kiran Sonia Sawar is an insurance investigator routinely closing the loose ends in a car accident claim. If this one doesn't interest you I'll eat my underpants.

Better Than US
This is a Russian subtitled series following the life of an android that has the an electronic version of consciousness and personality, following its programming but having a similar set of goals and impulses as a biological human.
From this viewpoint you get to see the affect of the prejudice that she experiences and her cause and effect logic is structured, i.e. what she thinks about that.

If you see the background blooper scenes its disappointing to see actual proof that she isn't an android at all and the illusion goes up in a puff of smoke. I don't know how its possible to know its not true but still root for a character that doesn't exist.
The subtitles aren't a problem and its easy to follow. The lead female is fascinating, much like Gemma Chan in the Brit made series 'Humans'. For me, this version works better.

I Am Mother
The voice of Mother was given by Rose Byrne, a favorite actress. I didn't know that until now… that's a bit unsettling quite frankly.
Hilary Swank turns up at an installation where a machine is raising a human child. From that point on things begin to take a turn for the worse. You can tell this is the case from the poster, but it doesn't take away anything from the story that unfolds. Its a really good film worth considering if sci-fi appeals to you. If in doubt check the trailer to see what the tone of the film is like.

Ex Machina
This is a solid SciFi film laden with foreboding overtones. Since this film, like Passengers, includes a significant examination of the relationships between the main characters rather than being what Mark Kermode called a "runny, jumpy, shooty" film. And that means you can take heart in the knowledge that it is an intelligent film that does a brilliant job of presenting its creepy story.

The graphics, as shown in the poster where the neck is transparent, is awesomely realistic and the unfolding interplay of the characters is fascinating and gripping in an uncomfortable sort of way. A superb film in a category of its own.

Get Hard
Will Ferell plays the rich white idiot being trained to survive San Quenten prison by Kevin hart in this dumb comedy.
Will is stitched up as the fall guy for embezzlement by his gold digging fiance and her scheming father and then the count-down to prison begins. Will plays the childishly stupid centre of the story line while Kevin provides the energy, wit and polish that makes it entertaining. He's a naturally funny guy no matter what he does, and this film saved my day and put a smile on my face.

Ready Player One
Having already read the book last year I was in a much better position to absorb the onslaught of highly detailed graphics created by large teams with even larger rendering farms.
All the details that are in the book are represented here but are securely smashed under the whirlwind of graphics. For this reason, I still think that the book is worth reading even if you do see the film.
The story is set in the year 2044 where the world economy has crashed and things are bleak. The population seeks solace in an extensive digital environment called OASIS. The story starts with the announcement of a global contest for the ownership of the online world and all the wealth that goes with it. To win, players must solve riddles and complete tasks devised by the original programmers in a race against time. Bad corporate dudes are pitted against geeks. Its a slugfest of evil deeds and clever comebacks.

Oblivion
First things first, l think Tom Cruise is an underrated actor, probably because he is so famous that his public and private life are simultaneously battling with his onscreen characters and they all have an unreal life of their own. Liking Tom now is similar to liking ABBA when they were on the rise – not so cool. But I don't care, and I like airline food as well, just so you know.
But this is the perfect film for Cruise control. The set-up is excellent, as are the well-imagined sentry robots. I just love those critters, and they are the stars of this film in a way. In addition, an excellent aspect of the film is the sounds of the sentries and other tech gadgets. It really sets up a good atmosphere and it definitely would be a different film without them.

One potential weakness of the film is the characters headed by Morgan Freeman, not his fault, not with a voice like that. It all goes a bit Hollywood when they show up though I'm not sure quite why. The formulaic feel of part of the presentation loses 1 star, but it's still a very good film.

The Edge of Tomorrow
Another great film starring Tom Cruise, this time with Emily Blunt. The best thing about this film is that it's based in England with English actors but the atmosphere is lifted by the American nuances of our man Tom as well as Bill Paxton.
Note: Bill is notable for his brilliantly flawed character in Aliens 2 who I have really enjoyed watching so many times as the whining marine in the ruins of a crashed dropship. so good. Sorry to see you go, Bill 🙁

The Anglo American mixture here is great and the invasion scenes are awesome. Yes, I'm afraid that word has gotten into my dictionary, so I may as well come out of the closet and use it. All in all a great film.

Her
A quiet, beautiful romance carried via a quality scifi concept that starts on a small scale and remains primarily executed by Joaquin Phoenix and the arty Scarlett Johansson. Amy Adams managed to sneak in there too, she gets about a bit I've noticed.

The potential for the storyline has been thoroughly developed as it grows and transforms stage by stage. It's inevitable conclusion finally becomes clear but, as we all know, it's the journey, not the end that is the true gift. Jeese that was a bit high-brow, I need to take a nap now.

Life
I've just seen the new film release LIFE. It was one of those omg! Omg! OMG! films. After a short while, I was wondering why on earth I had volunteered to put myself through this gut-wrenching, relentless roller coaster.
The answer is because it's great! A welcome return to a more 'realistic' type of tale, the graphics, actors, acting all excellent and the tension runs continuously through it all.

There are some shortcomings in terms of correct science, but it's a lot closer to the mark than plenty of other films, so go with it. For sci-fi fans – don't miss it on a big screen – it's a nightmare!

Space Force
Steve Carell is handed the task of getting boots on the moon against the odds in this straightforward amusing comedy.
In series-1 the team are earth based, fighting for funding and quarrelling with each other while prototyping the habitat and gear.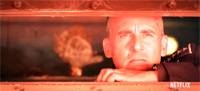 Most of the humour is loaded into the conversational tension between the characters and the unintentional reveals that occur as they bumble along. It's less politically correct than is usual theses days, which is a relief. The Chinese tech lead does a good job of handling questionable comments whilst being the better person. I found that quite an interesting side issue.
I might not make it to the end of the series since it's not a format that appeals to me, but it's been a good watch. The rocket launch fails are favourite moments.

The Lake House
This film is a romance/fantasy mixture.
Sandra Bullock does a great job of gluing this story together whereas Keanu is a little more wooden by comparison. Non-the-less, the general atmosphere of the film works well and the mysterious time-based premis is interesting.
I have tried mapping out the events in the story but it got very confusing very quickly. It's best to simply assume there are no errors?

Passengers
This film is proper science fiction! It has a decent storyline matched by fairly, but not strictly realistic, science outcomes. The spaceship is a really nice design and is the centrepiece of the film. The female vote for this film was close to 5 stars, but I'm sticking with mine for consistency.
I've heard reports of poor reviews which I put down to the film being more relationship-oriented, and that probably affects the male vote. A properly visited story will be about how the characters are affected, and it's the main reason why it's a better class of scifi story. There are no supernatural events or lengthy action sequences. I bought my copy on blue-ray for the graphical content, but casual viewers might be ok via rental.
It would be a good film for the awkward geeks who have managed to get a girl home and need to calm down while they figure out what to do next. When 'going with the flow' is a strange and sweaty new land, and 'running away' becomes a serious option. Don't do that, my man! Put this film on, think really hard about the science and tech and let Chris Pratt teach your subconscious in a non-threatening way.

Annihilation
The recently released film Annihilation starring Natalie Portman is now listed on Netflix UK. It has a more traditional sci-fi premise featuring an unearthly hazy wall shimmering with translucent colours, which is a lot more my cup of tea.
It has a unique style which is worth the watch for that alone. Sci-fi buffs should put this on their viewing list.
Since the average rating for Netflix films is understandably a little bit below 'ok', (even though there are a lot of good films to choose from) you will probably find it useful to try visiting flixable.com, a site dedicated to sorting the Netflix listings by rating in a way that Netflix is possibly reluctant to do.

Blade Runner 2049
Thankfully this is a truly awesome sequel to the original film, instead of being the massive disappointment that might have been anticipated. It's a fine accomplishment.
The delivery is serious, adult and expertly crafted. Nothing is hurried. The scenes and settings are epic and the vistas are all bathed in an orange mist. This is a complete contrast to the noise, detail and complexity of many CGI laden films that are about now.
On the negative side, the film length is 17 minutes short of 3 hours and the last third or quarter of the film didn't work as well for me. I think that section of the film should have been compacted down to the benefit of the film as a whole. This is a film I will definitely see many more times.

Just Like Heaven
This is a totally mushy, predictable, lightweight romcom film featuring ghostly shenanigans with Reese Witherspoon and Mark Ruffalo.
This film is so very nice that male readers will most likely disown it. I'm testing my resolve here by saying I actually enjoyed this warm-hearted, soppy tale.
If you need to de-stress, this film acts like a good pile of sand you can stick your head into for a while, therefore I think it is doing the world an important service that shouldn't be overlooked.

The Foreigner
This is a gritty but glossed up revenge film with Jackie Chan pitted against Pierce Brosnan.
I was wondering how the Irish might feel about Pierce Brosnan's representation of them in this politically tricky tale but it turns out he actually is Irish. I didn't know that.
This is probably the first ever Jackie Chan film I've seen. I've not been keen on watching him hurting himself for fame and fortune, in the same way I can't encourage contortionists etc. But in this tale is sad face matches the character outline perfectly well.
While normally I can't gt into runny, jumpy, gun films, this one went kept my interest all the way through, which for a Netflix film is high praise :o)

Lucy
Anything with Scarlett Johansson in is worth checking and this is no exception. The exception for me was Under the Skin, which was a bit too rough for my taste. But this film is so much better, and it has Morgan Freeman too, which is always a pleasure. In keeping with her free spirit, this film has a Japanese influence that shows most obviously in the featured Asian gang, but also in the manga style storyline. It also switches over to the French police later on. As usual, it makes a change to get away from Hollywood, but it helps to have some empathy with Manga in order to accept what you get. A Western audience might reject what they see based on their ideals. Recommended for those who look forward to a few non-standard influences.

What Happened to Monday
Noomi Rapace is always worth setting time aside for in my opinion. In this film she plays each part of 7 identical sisters in a one-child-per-couple world that hides a nasty secret. You could have guessed that something is wrong yourself as soon as Glenn Close turned.
William Dafoe chips in as a weirdly unbelievable father as opposed to a weirdly unbelievable super villain or unbelievable one-eared painter etc. I like him but he has the acting presence of pantomime horse (a beautiful pantomime horse, as Trump would say).

Wind River
Jeremy Renner exactly fits his part in this contemporary wilderness murder mystery set in Wyoming. My post-film reaction at the time was 'that was a thoroughly good film'.

The setting and season makes an interesting backdrop to the detective work that builds into gritty and gripping confrontations where satisfying and sometimes unlawful revenge is taken. Revenge is a dish that can only be served cold as #@!# in these freezing conditions, I can tell you.
It's core theme is based on real life events as explained in the closing credits.

Archive
This is a rather good Sci-fi film that would appeal to hard core sci-fi fans. This is a man flick that deals with a lot of hardware and technology. The lead actor does an effective job of providing the focal point. The environment is beautiful and has been elevated by limited use of CG enhancements.
An interesting if sad side story is provided by earlier prototypes that are intelligent enough to know when things are stacked against them. We all know how that feels.
The sound track is typical of low budget films and I suspect that re-working that aspect of the film alone would make a big difference to the final result. Although the film lasted a little bit longer than my interest, hang in there for the proper end to wrap things up.

Time Trap
I don't know any of the actors in this TV style film that fits well with a Sunday afternoon couch after a big meal.
Surprisingly, For me at least, this film made a decent attempt at portraying the effects and consequences of connected locations running at different timescales. At a crucial point in the film, the story line did not attempt to reset the story, but instead went forward. Not many stories are brave enough to do that, so bravo!

Related Articles